update
City of memories
#05
I follow rivers
Inspired by the popular Japanese author Haruki Murakami, who is a marathon runner himself, I start every morning with a one-our-long run before breakfast. The trick is to get out the door as soon as I wake up, without hesitation. Once I'm outside and start running, my mind is usually still blurry and cloudy, but somewhere halfway in my run I'll eventually wake up.
Running seems to be a popular activity in Japan, but in the big cities of Tokyo and Yokohama it's not always easy to find long and continuous paths where you don't get obstructed by traffic lights, railway crossings or big crowds of people. Two of the most popular destinations for runners of all calibres are around the parks and along the rivers. Murakami himself prefers to run laps around the huge Yoyogi Park in the periphery between Shinjuku in the north and Shibuya in the south (although technically a part of Shibuya district). While I was living in Bunkyo, I had two different go-to running courses for long distance runs: one that went down south, involving a lap around Chiyoda Park where the Imperial Palace is located, and one that went up north to Arakawa River.
Running around the imperial gardens is a popular course, and there are always a lot of runners running alongside you, at least if you run counter clockwise, which most people do. In Addition to the big inner city parks, Tokyo and Yokohama are full of smaller neighborhood parks. Some of these parks stem from the Edo era, where the Samurai estates often had a generous garden connected to it, which were later on transformed into public parks during the Meiji era. These parks are not at all big enough to run laps around, but make for nice green pit stops during a long run. Many of them are equipped with public toilets (which are almost non-existing in Norway) and vending machines, should you need a refreshment during the run.
Maybe it's the closeness to the water at the rivers that attracts me. I've grown up in a harbour city, where I see the fjords on a daily basis from my kitchen window. Even though Tokyo is also a harbour city with a huge bay area, it's easy to forget. Odaiba, an area made out of artificial islands and canals, is a part of Tokyo that opens more up toward the water, and you can even find inner city beaches here. But while living in Tokyo and Yokohama, I've always been depending on regular visits to Kamakura to get a proper dose of open sea.
But the easiest thing to do when running in Tokyo or Yokohama is to follow the numerous smaller and larger rivers. Along the rivers, all sorts of activities take place. On a regular day you'll see people running, doing yoga, skateboarding, fishing, painting, reading, having lunch, you name it. Due to the dense dwelling situations, living in small and not very soundproof apartments, many are taking their instruments to the riverbanks to be able to practice without disturbing their neighbors, often under the bridges where the acoustic is better. The riverbanks have become a substitute for public spaces such as the plaza or the piazza, that are more common in Europe.
Somewhere between A and B
Everyone in Tokyo seems to be on their way somewhere. This is not an uncommon notion in a city of this size, but unlike big cities in Europe, there are very few places between your starting point and your destination that you can hang out. Benches are usually placed only in parks or along the rivers, while in the city center it feels like the only place you can see people standing still is either at the traffic lights, or at the smoking areas outside the convenience stores.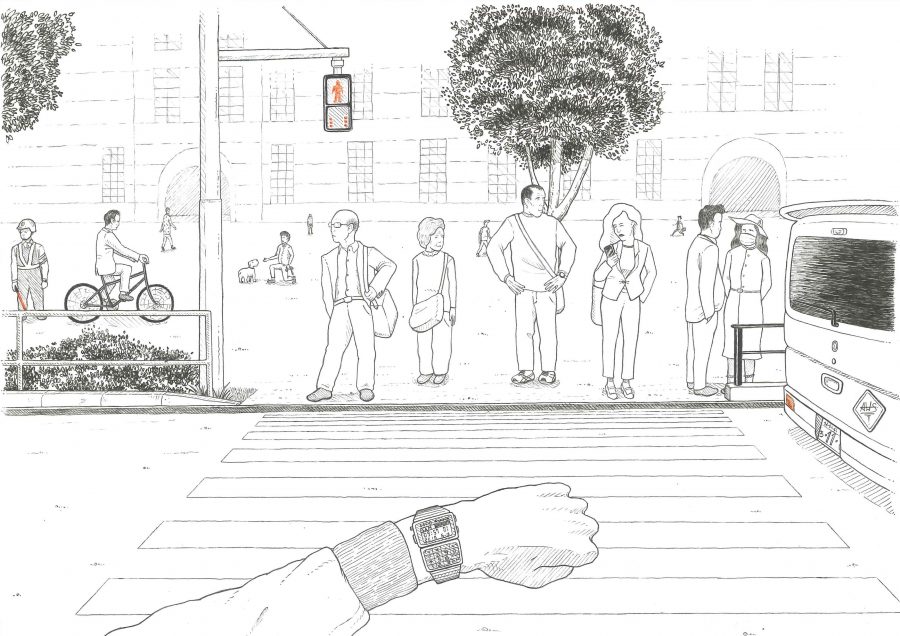 In Norway it's since 2004 forbidden by law to smoke inside establishments such as restaurants, cafés and bars, while there are technically no restrictions regarding smoking outside. In Japan, on the other hand, it's exactly the opposite: you're allowed to smoke inside most cafés, bars and izakayas, but outside you actually get fined if you're caught smoking outside one of the designated smoking areas (often found outside convenient stores or tobacco stores). As a non-smoker, I definitely prefer people smoking outside under an open sky, than inside a 30 square meter bar with no windows, but maybe that's just me.
Recently, Ondesign did a project in the Minato-Odori street next to Yokohama Baseball Stadium, where they utilized a small section on each side of the street to make temporary resting spaces. Just by isolating a space with a low wooden fence, a wooden deck covered with artificial grass, and putting up benches and tables, a simple and massively popular urban space was born, right in the middle of busy Yokohama, unique to the urban mesh of Japanese mega cities.
After the daily run, I take a couple of minutes to do some stretches outside the front door. I see the morning sun slowly sneak up over the neighboring rooftops, but the streets are still quiet and empty. It's a Saturday, so there are no school kids marching towards their morning class, no mothers on bikes with kids' seats racing towards the kindergarten, no salary men in dark suits sprinting to reach their designated train. At the breakfast table I pour myself a second cup of coffee and continue my Murakami book.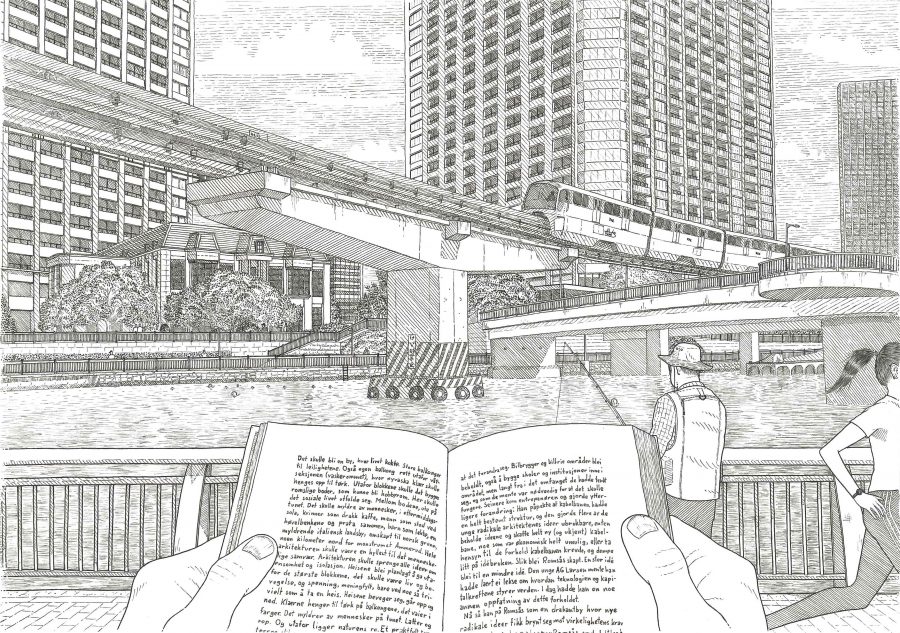 As I write this, I've already moved back to Norway and started a new chapter of my life. Japan is still the most inspiring place I've ever lived, and I will probably never stop drawing and recreating memories from the years I spent there. Thank you all for having a look, see you again somewhere down the line!
profile

Anders Wunderle Solhøy

Born in Bergen, Norway, in 1993.
He holds a Master's Degree in Architecture from the Norwegian University of Science and Technoligy in Trondheim. In 2017 he spent a semester as an exchange student at the University of Tokyo, as part of the Chiba Manabu Laboratory. In the spring of 2018 he went on to work as an intern, first at Chiba Manabu Architects, and then at Go Hasegawa & Associates. After graduating in Norway in 2019, he returned to Tokyo to work at Atelier Bow-Wow, and since the winter of 2019 he has worked at Ondesign Partners.
He has also worked on smaller architecture projects and illustration commissions as a freelancer, and has a deep passion for hand drawings and other crafts connected to architecture and the art of building.